Dog Walk Club: Nick's Creek Greenway 4/16
April 16 @ 3:00 PM

-

5:00 PM

Free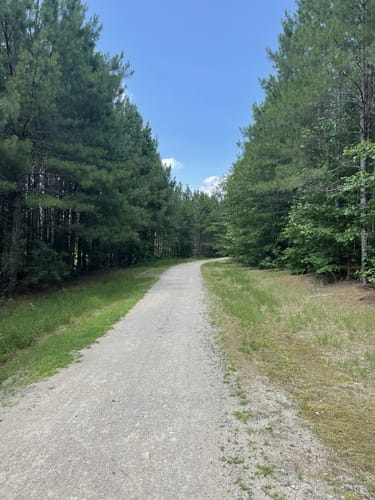 Dog Walk Club: Nick's Creek Greenway 4/16
Dog Walk Club will meet for a walk at Nick's Creek Greenway on Sunday, 4/16.  We'll meet at 3pm at the parking lot at Nick's Creek Greenway, 7200 Highway 22 Southern Pines, NC.  This is a packed dirt with sometimes crushed gravel out-and-back pretty flat easy hike, suitable for strollers or bikes.  It can be a little muddy right after heavy rain.  It's not a very crowded trail.  Nick's Creek Greenway starts at the parking lot with a view of the namesake water.   Due to the proximity to water, there may be some bugs.  OK, there will be mosquitoes, and some bees pollinating the wildflowers alongside the trail.  There isn't a lot of shade on this trail, so plan accordingly.  Our hangout spot for this walk is The Bell Tree Tavern in Southern Pines.
Here's a little about Bell Tree Tavern:
The Bell Tree Tavern in downtown Southern Pines draws its inspiration from the taverns of yesteryear. A black awning hangs over a heavy wooden door punctuated by a cast-iron door knob. Inside, polished hardwood floors, an exposed brick wall, a high-top dark wooden bar and ornamental chestnut-colored ceilings add to the old-school ambiance.  The tavern's name carries historical significance, too. As the story goes, thirsty travelers in search of a libation would ring a bell inside a hollowed tree to signal that they wanted a swig of moonshine. Moonshiners used this method as a way of avoiding capture. Visit The Bell Tree and maybe you'll hear the whole story.
If you want to just meet us at the hangout spot, there are no judgments 😄
About Dog Walk Club:
Dog Walk Club meets in Sanford on the 1st Sunday and in Southern Pines on the 3rd Sunday of the month. We vary the walks and hang-out spots- and yes we definitely take suggestions!
Jael and Dr. Meghan provide Fear Free training tips to help your dog walk nicely on a loose leash. We do not accept any dog on a slip lead or a choke, prong, or shock collar into our club. If your dog needs training, it will be with positive reinforcement, so don't feed your dog before the walk, and bring lots of tasty treats. Jael conducts a private 2-session Leash Walk Boot Camp Training Course for anyone whose dogs are in need of more assistance.
Everyone is welcome to join us in this free community event. So grab a dog, and a human friend, and hang out with us!